Dallas Fort Worth Party Rentals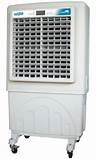 Cool Zone Portable Cooler
Fellow Texans, you need this for your outdoor parties!
Lowers the temperature directly in front of the unit from 10 - 25 degrees
21 gallon reservoir can be manually filled
3-speed axial fan allows you to control the air flow
Continuously circulating air literally blows mosquitoes away
Quiet motor runs at a much lower volume than other portable cooler brands
Plugs into a regular electrical outlet
Will run on "high" for about 4 hours before a water refill will be needed
Control the climate of your outdoor space with this Cool Zone Portable Cooler. Ideal for backyards, outdoor events, restaurant patios, industrial applications or even disaster relief, this evaporative air cooler can lower air temperatures directly in front of unit from 10 - 25 degrees using water-soaked cooling pads.
No condensation or exhaust hose is required to use this air cooler, simply fill the 21 gallon reservoir with water, plug it in and then chill out. Because the portable cooler maintains continuous circulation, it is effective at controlling mosquitoes during your outdoor barbeques or pool parties. This machine is capable of moving 4120 CFM of air, impacting up to 1050 square feet of space (outdoor conditions may vary), while ionizing the air. The digital control panel on the unit allows you to set a run-time, control the temperature output, set the 3-speed axial fan, and it displays a low-water warning. In case you are not around to receive the warning, the pump will shut off automatically when the water level gets too low to prevent the pump from burning out.