Dallas Fort Worth Party Rentals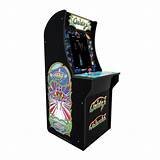 Multi Arcade Game
Relive your childhood with nostalgic arcade games!
The Multi Arcade game offers a variety of favorites: Mario & Super Mario Bros, Defender, Stargate, Robotron, Joust, Splat, Kickrider, Do Run Run, Ice Climber, Sky Kid, Gradius, Solomon's Key, Ghosts & Goblins, New Rally X, Battle City, Blaster, Bubbles and more!
Player Positions: 2
This product is offered through our sister company, Sundance Events. Due to special considerations with transporting and setting up this product, a delivery/setup fee will be applied depending on site logistics and travel time.