Party Tent Rentals In Cedar Hill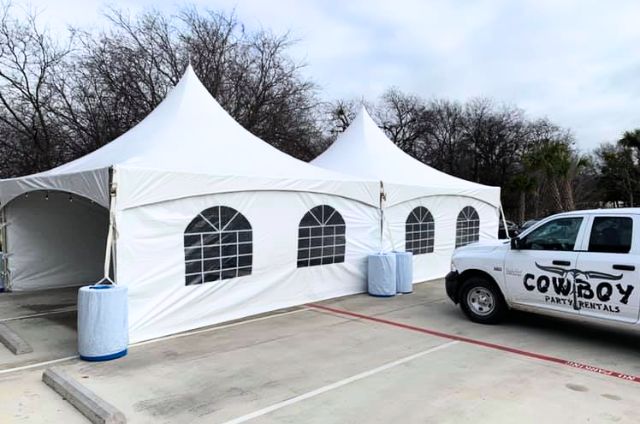 Featured Tent Rental In Cedar Hill
20x40 High Peak Tent Rental
Our 20x40 High Peak Tent is perfect for your next corporate event, wedding, or even backyard party, providing great protection for your guest from the sun, the cold, or the rain! Each tent provides enough seating for 70-80 people for a banquet or round table seating, cocktail seating for up to 110 people, or ceremony seating for up to 110 people. (seating numbers are an estimate based on table and chair layout)

Be sure to also check out our tent sidewall rentals to add extra protection from the weather!
Book Online Now
Create Unforgettable Outdoor Events In Cedar Hill
When it comes to hosting outdoor events in Cedar Hill, the right party tent can make all the difference. Whether you're planning a romantic wedding, a corporate gathering, or a lively backyard party, Cowboy Party Rentals has got you covered. With our extensive range of top-quality tent rentals and impeccable service, we are your go-to choice for creating an unforgettable outdoor party experience.

One of the key advantages of choosing Cowboy Party Rentals in Cedar Hill is our wide selection of party tent rentals. We understand that each event is unique, and we offer a variety of options to accommodate different styles of events. From intimate gatherings to grand celebrations, our inventory includes many sizes of tents, tent sidewalls, and even tent weights. You are sure to find the perfect tent to suit your Cedar Hill event needs.

To further assist you in your party planning journey, Cowboy Party Rentals provides expert consultation. Our knowledgeable staff is well-versed in the intricacies of party planning, and we will guide you in choosing the right tent size, layout, and accessories. By understanding your specific needs, we can help you create a customized setup that will maximize both comfort and aesthetics for your guests.
Poplular Tent Rental Addons
Tent Lighting Rentals
When it comes to creating a magical atmosphere for your outdoor event, the right lighting can make all the difference. Party tent lighting not only illuminates the space but also sets the mood and enhances the overall ambiance. Cowboy Party Rentals has the perfect Edison tent lighting rental to transform your evening event into something special.

For a more classic or rustic feel, consider string lights. These charming lights can be hung from the tent ceiling or wrapped around tent poles, creating a warm, inviting atmosphere that's perfect for any occasion. The warm glow of string lights can transform your outdoor party into a magical evening event.

Cowboy Party Rentals understands the importance of proper lighting in creating the right mood for your event. They offer a variety of lighting options to suit your style and preferences. Be sure to add tent lighting to your next rental to create an enchanting outdoor party!

Remember, lighting is more than just functional - it's an essential part of your event's décor and can significantly influence the atmosphere and guest experience. Trust Cowboy Party Rentals to help you create the perfect lighting setup for your next Cedar Hill outdoor event.
Book Online Now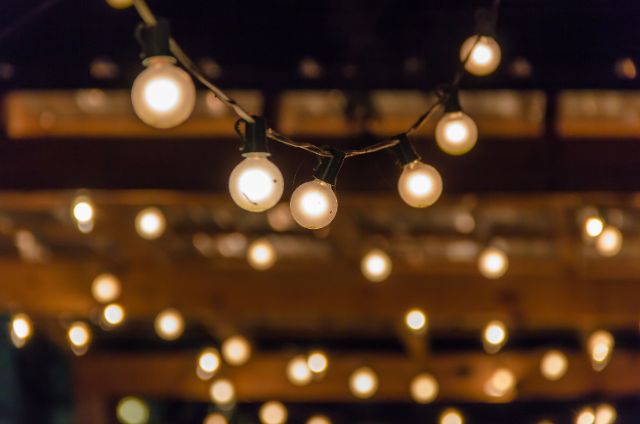 Why Choose Cowboy Party Rentals For Your Tent Rentals
At Cowboy Party Rentals, we prioritize quality above all else. Our tent rentals are meticulously crafted using premium materials, ensuring both durability and protection from the elements. Rest assured, our structures are built to withstand various weather conditions, creating a safe and secure environment for your event in Cedar Hill.

To make your experience even more convenient, Cowboy Party Rentals offers professional delivery services, taking care of all the setup and breakdown processes. By entrusting our experienced team with the tent logistics, you can focus on other aspects of your Cedar Hill event with peace of mind.

Choosing the right tent rental for your event is a crucial decision that requires careful consideration. Factors such as the event size, venue, layout, and expected weather conditions all come into play. At Cowboy Party Rentals, we understand the importance of these factors and are here to help you navigate through them. Our knowledgeable team can assist you in selecting the ideal tent that suits your specific needs. With our expertise, your event will not only be visually stunning but also functionally practical.

When it comes to party tent rentals in the Dallas-Fort Worth area, Cowboy Party Rentals is the premier choice. Our commitment to quality, our wide selection of tent rentals, professional setup and takedown services, and unwavering dedication to customer satisfaction set us apart. We are the ideal partner for creating unforgettable outdoor events. You can trust Cowboy Party Rentals to transform your vision into reality and provide a remarkable experience for you and your guests.
Do You Deliver Tent Rentals Near Me In Cedar Hill?
The answer is yes! Cowboy Party Rentals serves thousands of Cedar Hill customers every year. Spanning all over Cedar Hill and surrounding areas! We offer bounce house combo, water slide, mechanical ride, rock climbing wall, mechanical bull, obstacle course, toddler bounce house with slide, toddler party, interactive games, carnival games, yard games, inflatable slide, concession machine, party extra, generator, dunk tank, portacool, slip-n-slide, holiday lights, and table games rentals. Are you expecting more guest to your party? We also offer table and chair rentals and tent rentals.
Our Service Area
Proud to Serve The Following Areas:
If your party or event is beyond that radius, just let us know! We may be able to make special accommodations to suit your event.
NOTE: Fees may vary depending on how far you are outside our service area.
https://www.google.com/maps/embed?pb=!1m18!1m12!1m3!1d53787.03645167135!2d-96.99114189309884!3d32.58779646271864!2m3!1f0!2f0!3f0!3m2!1i1024!2i768!4f13.1!3m3!1m2!1s0x864e8dc81471a297%3A0xe5265bd93a58b3f9!2sCedar%20Hill%2C%20TX!5e0!3m2!1sen!2sus!4v1617630725041!5m2!1sen!2sus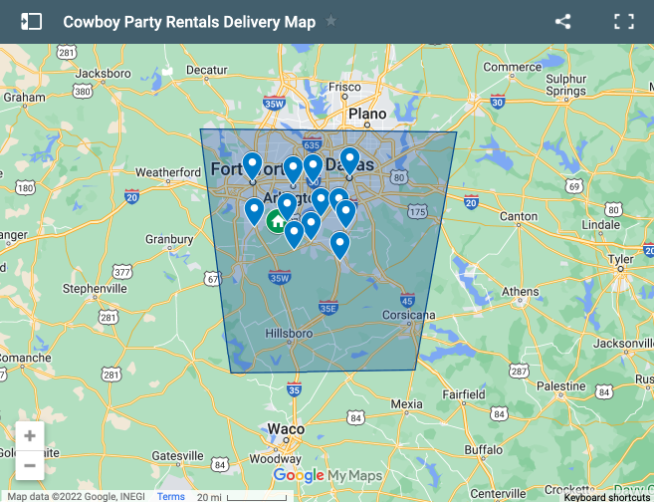 Customers Who Rent Party Tents Also Reserve: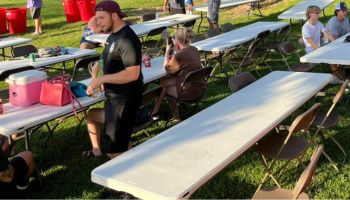 Tables & Chairs
Cowboy Party Rentals makes table and chair rentals easy and affordable! Every event NEEDS extra chairs and tables in case more people than expected arrive. Better to have and not need than to need and not have!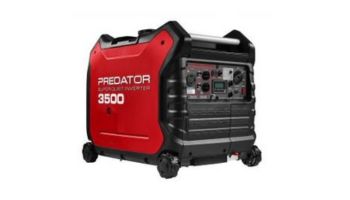 Generators
Are you planning an event away from a source of electricity? Be sure to reserve a generator rental to power all of your inflatable rentals and concession machine rentals! Generator rentals include one full tank of gas!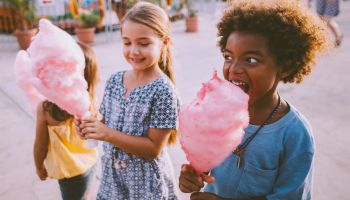 Party Snacks
What's a party without snacks? Cowboy Party Rentals has you covered with our popcorn machines, snow cone machines, and cotton candy machine rentals! Your guests will be happy to refuel to go back and jump more!
Frequently Asked Questions About Renting Tents
Why Trust Cowboy Party Rentals?
Cowboy Party Rentals serves the Greater Dallas Fort Worth as their #1 choice for the best in event and party rentals. Our great selection of mechanical bull rentals, mobile rock wall rentals, bounce house rentals, and many fun interactive inflatables can help provide hours of fun for guests at a small backyard birthday party to a large city or church event! We also have dunk tanks, tents, table and chair rentals, concessions, huge water slides, large obstacle courses, foam machines, and much more!

Let us help plan your next event with our awesome, trained staff!

We offer an easy to use online booking system, highly rated service staff, and insured & sanitized products to make sure your event goes smooth!

At Cowboy Party Rentals, we take a huge sense of pride and accomplishment when our customers are fully satisfied with our services and products. Being parents, we know the stress of hosting backyard birthday parties so let us take the pressure off of you and let you enjoy your special day with your loved ones!

We are the leading bounce house and party rental company in Midlothian, TX. We proudly serve the following areas in Texas (TX). Midlothian, Mansfield, Cedar Hill, Waxahachie, Ennis, Red Oak, Cleburne, Venus, Alvarado, Maypearl, Desoto, Duncanville, Kennedale, Burleson, Joshua, Grandview, Glen Heights, Oak Leaf, Arlington, Dallas, Ovilla, Grand Prairie, Lillian, Lancaster, Bardwell, Avalon, Pantego, Forreston, Corsicana, Ellis County, Johnson County, and Tarrant County and everywhere in between!
What if we need to cancel?
If you need to cancel for any reason (prior to the day of your event) there are no penalties. Your deposit and any payments you have made will be processed in our system as a rain check that can be used at a later date. If you choose to pay in full, then that full amount will be processed as a raincheck.
Are your products safe and clean, and are you licensed and insured?
Absolutely! We take our safety and cleaning very seriously because we have children as well! We offer fun and safe to use items that are equipped with the latest safety standards. Our rides and inflatables are routinely checked not only by our staff but also state inspectors to ensure they are of good quality and functioning properly.

Our units are cleaned and sanitized after each use.
How does the ordering process work?
Ordering through Cowboy Party Rentals has never been easier! Simply follow these steps:

1. Select the date and times of your event. We show you online what's available!
2. Select the item(s) you want to book for your event.
3. Place your billing and event info in the appropriate boxes just like Amazon!
4. Pay a small deposit or pay for the full amount.
5. Sign your rental agreement in your emailed confirmation receipt and you are done!

or you can email, use live chat on our website, or call with one of our team members and they will take your through the process of ordering.

The day before your event, you will receive an automated text from our booking system with a delivery window. Keep in mind that when you book the times you list are party start and end times not necessarily your delivery and pickup times. Delivery and pickup times will vary depending on your location and the drivers route. Sometimes we will deliver several hours early and pickup several hours after the conclusion of your party time.
What Does Cowboy Party Rentals Have to Offer?
Bounce House Rentals
Our jump house rentals are second to none! We have a great selection of bouncy houses. From our classic Bounce Castle to our exciting themed bouncers, we have something for everyone! Our 6-hour rentals begin at $140. Book today using our convenient 24/7 online ordering!

Obstacle Course Rentals
We are thrilled to bring obstacle course rentals to Midlothian, Tx! These large inflatable courses will bring more than just fun, but also some friendly competition. Our 135ft Toxic obstacle course rental will have people lining up to take on this HUGE inflatable course. Do you want an obstacle course with a slide? We have got you covered!

Interactive Game Rentals
If you want to get the whole party up on their feet and join the party, check out our interactive game rentals in Midlothian. You won't be disappointed with giant soccer darts. People get a kick out of the competitiveness of our party games. Get your party game rentals in Midlothian here!

Tablecloth Rentals & Table Linen Rentals
Cowboy Party Rentals has thought of every little detail. We offer fine table linens that will come to you clean, stain-free, and ready to dress your party tables. We have a table available too!

Table Rentals & Chair Rentals
When you need a place to rest your feet or a place to serve your food, check out the tables & chairs for rent in Midlothian. The party experts have got you covered. Our chairs are comfortable and clean!

Tent Rentals & Canopy Rentals
Tents & canopies are great for all your outdoor events! They will provide you and your guests with shade and protection from the weather. Our high peak tents are real show stoppers, check them out! We also offer table linens as well.

Mechanical Bull Rental
Our Mechanical Bull Rentals for the Dallas Fort Worth (DFW) area are a blast! Set your event apart from the rest by renting the baddest bull there is!

Mobile Rock Wall Rental
Check out the tallest Mobile Rock Wall Rental in the State of Texas! This three-person, 24' Rock Wall should be at the top of your wish list for things to rent for your next festival!

Event Extras
If you are hosting a party or event, Cowboy Party Rentals has everything you need. Whether it's wedding arches, bubble machines, audio equipment, and much more, you can count on us to be your one-stop shop for all your party and event rental needs.

Concession Rentals
Every great party always has great food! Your party guests will be thrilled when they see our awesome concessions set up for their enjoyment. Who doesn't love the sweet taste of fluffy cotton candy or the smell of popcorn? We guarantee clean and sanitized concession rentals.

Dunk Tank Rentals
Are you looking for a unique, one-of-a-kind party rental? Cowboy Party Rentals in Midlothian, Tx has just the right water rental for you. Our dunk tank rental is an interactive game rental that is a blast for the participants as well as the spectators. Our professional staff will bring the dunk tank right to your party or event.

Dry Slide Rentals
Dry Slides are a fun way to have fun without the water! When the weather isn't right for water fun, you can still enjoy the dry slides from Cowboy Party Rentals. Our dry slides are great for cooler weather and indoor events. We can set these slippery slides up in gyms, auditoriums, or outside.

Toddler Inflatables
Creating fun and magical moments for your little one is a must! Our toddler inflatables are specifically designed for the use of toddlers and have lower sides for increased visibility, while still maintaining a super safe environment for toddlers to laugh and play. We even have multiple colors and themes to choose from.

Party Extras
If you are hosting a party, Cowboy Party Rentals has everything you need. Whether it's sweet treats, savory popcorn, wedding arches, bubble machines, audio equipment, generators, and more, you can count on us to be your one-stop shop for all your party rental needs.

Water Slide Rentals
We have cool and fast water slides for every age group! Adrenaline Junkie? Our 24' Dual Lane Volcano Rush with Slip n Slide is a perfect match! You can also check out our 24' Emerald Crush with a splash pool! Cowboy Party Rentals has other thrilling water slides such as our 20' Blue Crush and 20' Laguna Wave that are very popular! You can also add one of our cool Dunk Tanks!

Slip and Slide Rentals
What summer party is complete without some awesome water fun? Our Slip N Slide Rental has dual lanes so you and your party guests can race to the end in a watery competition. Get our tropical-themed slip N slide and turn your event into a tropical oasis. Don't forget about our waterslide rentals!

Bouncer with Slide Rentals
Our PREMIUM Bouncer Combos are a can't miss! Our bounce house with slide combos is dual-lane and can be used wet or dry. Each combo features a large bouncing area, basketball goal, and a unique color theme! Choose from the Unicorn Combo, Fire Castle, Blue Crush, or very popular Football Combo!